Benches
From Dragons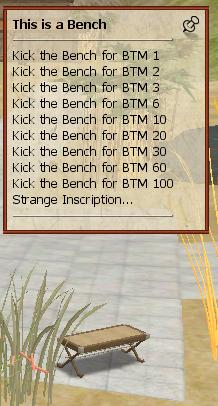 The Benches you see around aren't just for decoration or to sit on, you can bet on them too!
To play, first you must find eight different benches and read the strange inscriptions on them. Then all you have to do is click a bench. A drop down list with bet options reflecting your current Bitcoin balance will show up. Click an amount listed and your avatar will kick the bench. Benches pay zero, 150%, 200%, 250%, and sometimes 300% of the wager.
Tips/Strategy
Bench kicking is a purely luck game. There are no "tips or tricks" to playing.