Cow Tipping
From Dragons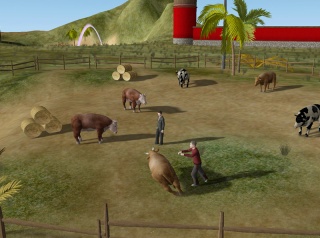 Cow tipping is a luck game. For high-class fun, perfect many different cow-tipping techniques. Learn from friends to perform pile-drivers, rolls, and throws. There are many different techniques to master in all.
Before you can learn a tip, you must first attempt to tip a cow once ( I suggest doing a 10 ksat tip). Whether it succeeds or not, you can now learn tips from others.
To learn a tip, merely be nearby when they perform the tip, and you have a chance of learning it. You can only learn 2 facets from someone on each move. And each facet must be learned from a different cow type (spotted, brown, red).
For example: If Umuri teaches Joeyzaza the cow stumbles on a spotted cow, he could also teach Joeyzaza the cow sways a bit on the spotted cow, since they are different moves. But for JoeyZaZa to learn another facet of the cow stumbles move, Umuri has to use either a brown or a red cow.
Knowing facets of a move makes it more likely to perform that move (16/16 being the highest chance), although your odds constantly re-adjust as you learn new moves, so that your long-term average will be 95% like other games.

When you have 16/16 facets of a technique, you can perform this technique on people (for free).
| Move | Payout |
| --- | --- |
| The cow sways a bit. | 0 |
| You almost push the cow over. | 0 |
| The cow stumbles. | 0 |
| The cow deftly sidesteps. | 0 |
| The cow hops to avoid your push. | 0 |
| Like an overweight horse, the cow tries to leap over you. | 12 KSAT |
| You twist the cow's meaty neck. | 18 KSAT |
| The cow almost shakes off your push, but the effort is too great. | 33 KSAT |
| Like a spastic monkey, the cow tries to regain her footing. | 50 KSAT |
| You throw the cow for a loop! | 88 KSAT |
| The cow lands flat on it's face. | 1.28 BTM |
| The cow falls on it's rear! | 1.88 BTM |
| The cow tips! | 3.3 BTM |
| The cow falls over like a tree. | 5 BTM |
| The cow splays itself all over the ground! | 8 BTM |
| The cow falls, hard. | 12.8 BTM |
| The cow rolls without much grace. | 18.8 BTM |
| You throw the cow over backwards. | 33 BTM |
| You shove the cow over on it's head. | 50 BTM |
| You toss the cow like a sack of beefy potatoes | 80 BTM |
| The cow teeters and falls. | 128 BTM |
| The cow rolls, clumbsily. | 188 BTM |
| You throw the cow on it's butt. | 333 BTM |
| Like a drunk acrobat, the cow goes down. | 500 BTM |
| With remarkable agility, the cow bounces and falls. | 800 BTM |
| Like a bovine figure-skater, the cow wrecks. | 1.2 BTC |
| What a nimble cow! It nearly sticks the landing. | 1.8 BTC |
| If Red foxx were a cow, this is what he would look like | 3.3 BTC |
| UNKNOWN TIP | 5 BTC |
| You manhandle the cow. Cruelty! | 8.8 BTC |
| You pile-drive the cow into the ground | 18 BTC |