Plantfalls
From Dragons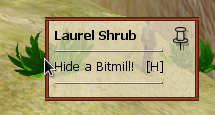 THIS PAGE IS OUT OF DATE. PLANTFALL GAME HAS BEEN CHANGED
Description
Plantfalls, or 'Hide a Bitmill' is a luck based game. Scattered around the island you'll find many grasses and shrubs. You can bet on these by clicking on the grass or shrub then clicking the "Hide a bitmill" button. This puts money into the plant. If you win, money will fall out the plant. If you lose, your money is "hidden" in the plant and is added to the random pot winnings for the next winner.
Most plants and shrubs require a 1 BTM bet. However, there are a few 10 kSAT plants on Zhifu (bamboo, laurel shrub, and river reed), as well as a few 10 BTM plants (bamboo and quince). Different grasses and shrubs have different payout structures.
Tips
When playing plantfalls it is good to have a large starting bankroll so that you don't go broke before you find a "lucky" plant. A bankroll of at least 100 BTM is recommended for 1 BTM plants, and a 10 BTM bankroll is recommended for 10 kSAT plants.
List of Plants
Below is a table showing existing, known data on the plants in the game. This data will be updated as more information is available.
| Plant | Variance | Lowest Payout | Highest Payout |
| --- | --- | --- | --- |
| Adzaka | | | |
| Bamboo (1 BTM) | Low | | 46 |
| Bamboo (10 kSAT) | Low | | 9.2 |
| Bamboo (10 BTM) | Low | | |
| Blue Pumila Grass | | | |
| Brushae | | 30 | 64 |
| Buffalo Grass | | | |
| Canary Groundmaple | | 197 | 222 |
| Caramel Blossom | | | 78 |
| Carbina Fern | | 33 | 51 |
| Castora | | 42 | 75 |
| Cat's Tongue | | | |
| Cattails | | | |
| Chantotinarae | | | |
| Chiffon Funnel Plant | | | |
| Cleareye | | | |
| Coleus | | 32 | |
| Crimson Scatterbell | | 94ksat | 2.37btm |
| Curl-Tip Snake Plant | | | |
| Dark Pampass Grass | | 2.55btm | 944 |
| Date Palm | | 3.29 BTM | 13 |
| Dravos | | | |
| Dwarf Sacrafice Weed | | | 284 |
| Emerald Flag | | 2.76btm | 2.76btm |
| Firecrack | | | |
| Giant Lavender Stonecrop | | 12.49btm | 12.49btm |
| Golden Bugle | | | |
| Golden Pampas Grass | | 49 | 69 |
| Golden Standard | | 28 | 39 |
| Green Ground Cover | | | |
| Hellia | | | |
| Hathor's Cup | | | 359 |
| Hellia | | | |
| Isis' Headdress | | | |
| Karroka | | | |
| King Fern | | | 72 |
| Kivimira | | | |
| Lamb's Ear | | | 48 |
| Laurel Shrub (1 BTM) | Low | 19 | 65 |
| Laurel Shrub (10 kSAT) | Low | | 2.20 |
| Lemon Scatterbell | | | |
| Low Vermillion Standard | | | 142 |
| Madweed Shrub | | 10 | |
| Milkweed | | 1.30 BTM | 15 BTM |
| Night's Beauty | | | |
| Olive Puma Grass | | | |
| Oracle Root | | | 167 |
| Pale Morningbell | | | |
| Pale Pampas Grass | | 4 | 107 |
| Pale Scatterbell | | 49 | 173 |
| Pilgram's Sacrifice Weed | | | |
| Pirella | | 7 | 25 |
| Pranesh | | | 35 |
| Pretty Pinks | | | |
| Pumila Grass | | | |
| Purple Scatterbell | | | 221 |
| Quince (1 BTM) | | | |
| Quince (10 BTM) | | | |
| Red Carpet | | | 67 |
| River Reeds (1 BTM) | | 5.90 | |
| River Reeds (10 kSAT) | | | |
| Rosy Stonecrop | | | |
| Rye Grass | | 60 kSAT | 21 |
| Serpant's Shade | | | 143 |
| Showy Stonecrop | | | |
| Snake Plant | | | |
| Sunset Groundpalm | | | |
| Tall Waxy Sedge | | | |
| Tangerine Sunbell | | 7 | 33 |
| Taro | | | |
| Trunkless Radicalis Palm | | 1.01btm | 1.01btm |
| Ullern | | | |
| Velvet Hosta | | | |
| Velvet Nightflower | | 48 | 63 |
| Violet | | 29 | |
| Violet Bard | | 79 | 89 |
| Water Blossom | | | |
| Water Leaf | | 27 | |
| Widow's Brush | | 34 | |
| Wild Oats | | 13 | |
| Wild Sea Oats | | 14 | |
| Yellow Ground Palm | Low | 3.38 BTM | 48 |