Soldier Statues
From Dragons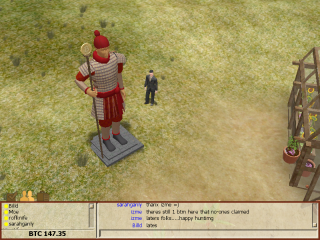 You can get free
Bitcoins
from the Soldier Statues located throughout Dragon's Tale. The Bitcoins are real, and can be used to play games within Dragon's Tale, or can be withdrawn. Usually soldiers will give small gifts, between 2 kSAT (1 kSAT = .00001 BTC) and 1 Bitmill (1 Bitmill = .001 BTC), rarely they'll give larger gifts: 10 kSAT, 50 kSAT, 1 BTM or more.
The game limits the gifts of course - you can't just drain one soldier dry - but there are no hard limits to the number of gifts that you can get although the more gifts you receive the longer you must wait before you can search for the next gift.
Soldiers receive gifts from the Faucet, located behind the Palace, and they keep them in inventory, giving them out as asked. If a soldier contains multiple denominations of gifts, he will always offer the largest. Because of this, the more out-of-the way soldiers which are searched less often tend to accumulate more gifts, and more often have larger gifts than those located in the middle of town.
Types of Soldier Statues
There are 4 types of soldier status as outlined below:
Type
Available To
How to Access
Graphic
Regular Soldier
All Players
No restrictions. Just click on the soldier and search for a gift.

Egenesis Soldier
Players who have promoted Dragon's Tale on game forums
Make a high quality post about Dragon's Tale on any active thread in any games forum on the internet and send Di a link to the message to get a code.

The thread *must not* have been started by you, the forum must not have a thread where Dragon's Tale is being discussed, and the post must contribute in a meaningful way to the existing thread's discussion.

Grindabit Soldier
Players with a Grindabit promotion Code
Create a user account on the Grindabit Forum and send a private message on that site to the user named "Grindabit." You will receive a reply on that site with your promo code.

Affiliate Soldier
Dragon's Tale Affiliates
If you are a full-time affiliate marketer and have experience marketing to gamblers, send an in-game /message to Di for more information about the Dragon's Tale Affiliate Program.
See Also: List of soldier statues