Terracotta soldiers
From Dragons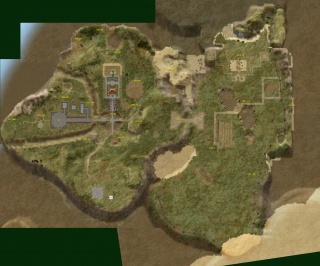 Scattered around the world of
Dragon's Tale
are twenty-four terracotta statues of soldiers. When clicked, these soldiers will often bestow gifts. Typically these gifts are 1 ksat, although they may occasionally be more. It's a good idea to seek money from these soldiers, though approaching the same one multiple times in a row is seldom effective. For this reason, it's a good idea to
Placemark
the locations of these twenty-six soldiers, and visit them in order to get them to "reset" properly. Additionally, it's said that soldiers will often wait for other users to seek Bitmills from them before again gifting Bitmills to a given user, if they've made frequent requests recently.
The locations of the twenty eight Terracotta Soldiers are listed below.
This page has recently been updated and now includes a map of the island with 24 of the soldiers marked with a green dot as well as their co-ordinates. The map will be updated asap to include the new section on the island which has recently been added where the tournament boards and soldiers #25, #26, #27 & #28 can be located.
Soldier 1
Qing Vase Stalls
-172, -11

Soldier 2
Art Wall
-212, -48

Soldier 3
Beetle Racetrack
-246, 3

Soldiers 4 + 5
Pair of Serpents
-221, 31

Soldier 6
Garden Store
-191, 69

Soldiers 7 + 8
Fireflies
-186, 85

Soldier 9
Millet Pond
-169, 85

Soldier 10
Millet Pond
-147, 94

Soldiers 11 + 12
Center of Town
-213, 85

Soldier 13
Palace Garden
-210, 72

Soldier 14
Zodiac Fire (Serpent)
-222, 64

Soldier 15
Pig Farm
-235, 81

Soldier 16
Dynasty Fire (Serpent)
-235, 101

Soldier 17
Bar
-220, 140

Soldier 18
Dragon's Archway
-212, 106

Soldier 19
Rice Pond
-180, 45

Soldier 20
Tower of Lights (Cricket)
-159, 116

Soldier 21
Savaka Forest
-227, 166

Soldier 22
Art Wall, Mines
-268, -20

Soldier 23
Tower of Lights (Butterfly)
-209, -13

Soldier 24
Eight Treasures Dining Tables
-207, 122

Soldier 25
Tournament Boards
-269, -64

Soldier 26
Tournament Boards
-260, -63

Soldier 27
New Beetle Track
-282, -160

Soldier 28
Three Ponds
-206, -149