Treefalls
From Dragons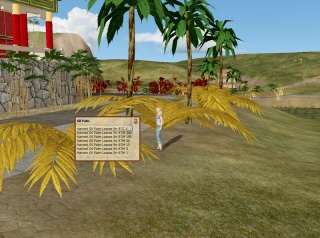 Description
For bets under 1 btm, treefalls is a 95% luck game, with different trees having different paytables.
Every week, one species of tree starts to pay 105% for bets of 1 btm or more, while three species start to pay only 85%. In Treefalls, hunches are often real!
The purse grows by 10% of the bet amount, on every bet, on a cursed tree. It loses 10% on every bet on a magical tree. This is regardless of whether the bet is a win or a loss.
When a purse is drained, an announcement goes out, and the round will reset at a random time between 0 and 2x the time remaining in the current round. When a round restarts after the purse is drained, the purse is seeded with 500 BTM.
How to Play
To play Treefalls you first have to identify 8 different species of trees. Here's how you do this:
Go to the Department of Herbal Resources (Xinren 250 263)
Click the building
Click "Ask about collecting Tree Leaves"
Now, find 8 different trees and click on them and click "Examine the Leaves"
Once you have done this for 8 different trees Ask about collecting Tree Leaves" again.
You should now see a betting menu when you click on a tree.
List of Trees
Here are the tree list and their payouts.
| Trees | Payouts |
| --- | --- |
| Arconis | 2, 3, 5, 7, 11, 13, 17, 19, 24, 49 |
| Anaxi | 5,6,7,8,9,14,15,16,18,22 |
| Ash Palm | 2,4,6,8,10,18 |
| Bottle Tree | 1,8,9 |
| Bramble Hedge | 5,6,7,8,9 |
| Beetlenut | 1,2,4,8,16,18,24 |
| Broadleaf Palm | 10,20 |
| Butterleaf Tree | 4,5,6,11,10 |
| Cerulean Blue | 2,3,5,7,10,11,13,17,18,19,20,21,22,24,26,48,30,36,39,50 |
| Chakkanut Tree | 1,8,9 |
| Chicory | 5,6,7,8,9,11 |
| Cinnar | 5,10,20,30 |
| Delta Palm | 5 |
| Elephantia | 2,3,5,6,7,11,13,17,19,28,33,40 |
| Feather Tree | 3 |
| Fern Palm | 5 |
| Folded Birch | 2,4,6,8,10,24 |
| Giant Crickelwood | 1,3,4,6,7,8,9 |
| Hawthorn | 8 |
| Hokkaido | 2,4,6,10,16 |
| Kaeshra | 1,2,3,4,5,6 |
| Locust Palm | 5 |
| Mini Palmetto | 1,2,4,8,12,16,18,20,24 |
| Miniature Fern Palm | 1,2,3,5,7,11,17,19 |
| Monkey Palm | 10,20,30 |
| Oil Palm | 2,4,6,8,10,12,16 |
| Oleaceae | 5,6,7,8,9,12,16,17 |
| Orrorin | 1,2,3,4,5,8,13,21,34,47,50 |
| Passam | 5,6,7,8,9,14 |
| Phoenix Palm | 10,20,30,40 |
| Pratyeka Tree | 1,2,3,4,5,6,8 |
| Ranyahn | 5 |
| Razor Palm | 5 |
| Red Maple | 2,4,5,6,7,8,9,11,12,13,15,17 |
| Royal Palm | 1,2,3,4,5,6 |
| Savaka | 1,2,3,4,5,6,7,8,12,24 |
| Spiked Fishtree | 2, 3, 5, 7, 11, 13, 17, 19, 20, 24 |
| Spindle Tree | 2, 4, 6, 8, 10 |
| Stout Palm | 3 |
| Tapacae Miralis | 1, 2, 3, 5, 8, 9, 13 ,34 , 35, 36, 44 |
| Tiny Oil Palm | 3 |
| Towering Palm | 1,2,3,4,5,6 |
| Trilobellia | 2,4,6,8,10,16,18 |
| Umbrella Palm | 1,8 |
| Windriver Palm | 2,4,6,8,10,14,27 |